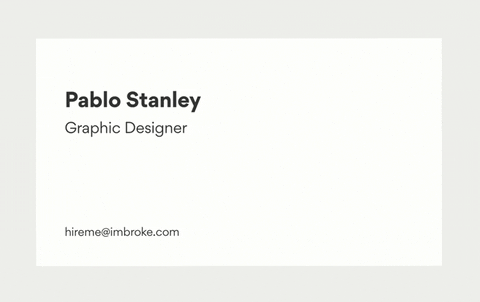 Didn't catch enough traction last time?

I thought exactly the same

LOL, busted. can't wait to see it again in a week.

EDIT - I thought it was going to be a discussion about ways to keep your cards up to date with out having to reprint 1000 cards every time.

When I moved to Japan, I got cards made before moving that didn't have a phone number on them, as I didn't have a phone number. I have since run out of those cards, but now I am thinking of getting smaller run stickers made up (as my work is more in the playful illustration areas of design) and I fucking love stickers.

I'd be curious to hear from your experience how that was received.

I heard that business cards in Japan are considered the extension of one's being, and are hence treated with the utmost level of respect...

Did you feel that at all?

my cards had a bunch of nice stuff on them, and I think they were nice objects to hold. holographic foil on on side, raised lettering on the other, thick uncoated stock ( I love me some uncoated stock). some people on here thought they were ugly, but they weren't my target demo.

business cards in Japan are next level, and I definitely found that when handing them over in a professional setting.

the lack of phone number didn't really matter, I had email/insta/and I think line on there at the time, and as I was dealign with mostly younger creatives, the lack of phone number didn't seem to come up at all.

This is why we needed the down vote

This would genuinely be a good business card.

It's the industry that keeps changing what your title "should" be. No one actually knows what's correct, but we can spot the out-dated ones!